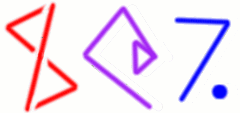 Perl Quiz of the Week
Deutsch | Español | Français | Polski
(Last update Thu Oct 21 08:10:43 2004)
Every Wednesday I send out a Perl quiz, usually a request to write a program or function to perform a certain task. The 'regular' quiz can be solved using only techniques and functions found in Learning Perl (3rd edition) by Schwartz and Phoenix. The 'expert' quiz may be difficult. The two kinds of quizzes appear on alternate weeks.
Mailing Lists
There are three mailing lists related to the Quiz of the Week.
The main mailing list is perl-qotw. It has very low traffic. Each week, it gets only a few messages: a quiz on Wednesday, a post with sample solutions on the following Monday, and possibly an administrative note. (In the past 7 days, perl-qotw has received exactly 3 messages.)
perl-qotw does not carry any discussion, solutions posted by list readers, questions, comments, or chat. All those things are directed to the second list, perl-qotw-discuss.
perl-qotw-discuss has high traffic----6 messages in the last 7 days, and sometimes as many as 100 or 200. If that is more traffic than you would like to receive, you may want to subscribe to perl-qotw-discuss-digest instead. You will receive the perl-qotw-discuss messages grouped into batches of 30, organized into threads, and sent as a single file.
How to Unsubscribe
To unsubscribe, send mail to:
The mail does not need to have any special content or subject field; the list manager ignores everything in the message.
If you subscribed from an address from which you can no longer send mail, for example fred@example.com, send mail to:
Note that the @ in fred@example.com has turned into an =.
If you subscribed from an address at which you can no longer receive mail, don't worry about it. The mailing list software will figure it out and unsubscribe you.
How to Subscribe
To subscribe, follow the instructions above for unsubscribing, but change unsubscribe to subscribe.
Or submit this form:
Other Mailing List Manager Commands
The mailing list manager supports retrieval of old messages in various formats. For information, send a message to:
How to Contribute
Quizzes and sample solutions are supplied by volunteers. We can only have quizzes if people volunteer to do this. To volunteer to supply a quiz and a sample solution, see these instructions and send a note to perl-qotw-submit. If you need quiz ideas, have a look at my quiz ideas files.
If you would be willing to translate this web page into some other language, see my notes for translators.
Moderation
Nobody but me gets to post to perl-qotw. Posts to perl-qotw have Reply-to: perl-qotw-discuss. If anyone posts to perl-qotw by mistake, their message comes to my mailbox and I send it back.
Posting to perl-qotw-discuss is restricted to subscribers of that list. Posts that appear to be from nonsubscribers come to my mailbox. Then I figure out if that person really is a subscriber; if so, I send it along, and if not, I send it back. Sometimes I also send back messages that violate the rules below.
Nobody at all is allowed to post to perl-qotw-digest. Digests are generated and sent automatically by a program.
List members are strongly requested to wait 60 hours after the quiz is posted before sending any hints, proposed solutions, or other spoilers to perl-qotw-discuss.
After 60 hours, it is all right to send messages with hints or to show sample solutions. Any such messages should have [SPOILER] in the subject field.
Abusive language will not be tolerated.
Frequently Asked Questions
Where should I send my solution?

You don't have to send it anywhere. The point of doing the quiz is to have done it; it doesn't really matter if anyone else sees it. You might want to send it to perl-qotw-discuss if you think it's particularly good, if you want comments on it, or if it seems to show a different approach from the solutions that have been posted there already. If you do this, please be sure to wait at least sixty hours after the quiz was originally posted.

I missed this week's quiz. Is it archived anywhere?

Why should I wait sixty hours before posting solutions?

I didn't want participants to focus on who could produce an answer most quickly. So there's a sixty-hour moratorium on posting solutions to give everyone a chance to think about their answers carefully. More details are here.

But I just can't wait!

Okay. Send your solution to perl-qotw-hasty.

What if I want to suggest a quiz topic?

Send it to perl-qotw-submit.
Complete mailing list archives:
Quiz Archive:
The mailing lists are also archived at
gmane:
---
Return to: Universe of Discourse main page | Perl Paraphernalia

mjd-perl-qotw+@plover.com